Leopards Shutout Tornadoes 7-0 in Home Finale – Boys Soccer

Louisville 7, Dover 0
<<< Vs. Perry | Boys Soccer Schedule | Next At Barberton >>>
The Louisville Leopards Boys Soccer Team shutout the visiting Dover Tornadoes 7-0 in their home regular season finale Tuesday Night at Louisville Leopards Stadium. With the victory, Louisville is now 11-2-3.
Varsity Recap | Varsity Box Score | JV Recap | JV Box Score
---
Ethan Diller and Nick Johnston lead the team with 2 goals each. Jacob Sanders, Drew Dillen, and Carter Burton rounded out the scoring with 1 each.
Assists for Louisville were Ryan Kibler, Carter Burton, Jacob Sanders, and Angelo Paquelet.
Noah Emmons with his 10th shutout in goal with 7 saves on the night.
Louisville now improves to 11-2-3 and wraps up the regular season Saturday against Barberton.
---
JV: Louisville 2, Dover 0
The Leopards JV shutout the visiting Tornadoes 2-0 Tuesday. With the victory, Louisville JV finishes with an even mark of 6-6-2 for the 2023 season.
The Leopards broke a scoreless tie at halftime with a pair of second half goals. Griffin Hess scored the first goal off an assist from Adler LaScola. Will Pochubay added an unassisted goal later to increase the Louisville lead to 2-0.
Junior Giovanni Foradis and freshman Justin Keister recorded the shutout in goal for LHS.
---
Donate to Leopard Nation
---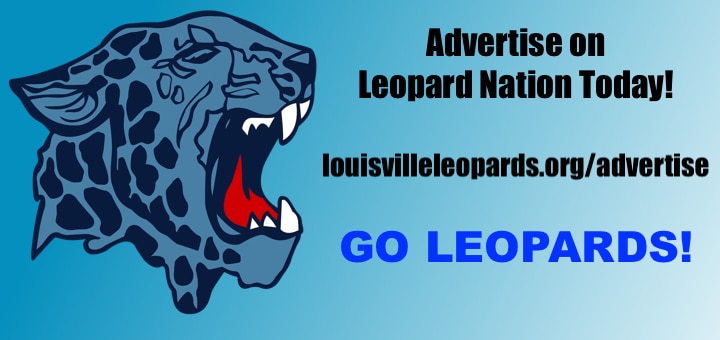 Don't forget to Subscribe to Our Posts for Free
---
Dover at Louisville Boys Varsity Soccer Box Score
LEOPARDS 7, TORNADOES 0
Team 1-2–TOTAL
Dover 0-0–00
Louisville 1-6–07
1st Half
LOUISVILLE – Ethan Diller | LHS 1, DHS 0
2nd Half
LOUISVILLE – Jacob Sanders | LHS 2, DHS 0
LOUISVILLE – Nick Johnston | LHS 3, DHS 0
LOUISVILLE – Drew Dillen (Ryan Kibler) | LHS 4, DHS 0
LOUISVILLE – Nick Johnston (Carter Burton) | LHS 5, DHS 0
LOUISVILLE – Ethan Diller (Jacob Sanders) | LHS 6, DHS 0
LOUISVILLE – Carter Burton (Angelo Paquelet | LHS 7, DHS 0
Records: Louisville 11-2-3, Dover 8-7-1
---
Dover at Louisville Boys JV Soccer Box Score
LEOPARDS 2, TORNADOES 0
Team 1-2–TOTAL
Dover 0-0–00
Louisville 0-2–02
1st Half
NO SCORING
2nd Half
LOUISVILLE – Griffin Hess (Adler LaScola) | LHS 1, DHS 0
LOUISVILLE – Will Pochubay | LHS 2, DHS 0
Records: Louisville 6-6-2