Leopards Dominate in Home Opener Vs. Tuslaw 65-15 – Wrestling

Louisville 65, Tuslaw 15
<<< Previous At St. Vincent-St. Mary | Wrestling Schedule | Next Ironman Invitational >>>
The Louisville Leopards Varsity Wrestling Team was dominate in their 65-15 home opener win over the visiting Tuslaw Mustangs Wednesday Evening at Louisville High School. With the victory, Louisville improves to 2-0 on the season.
---
---
Five Leopards Win By Pin
The Leopards won 11 of their 14 matchups earning the maximum points in 10 of them. Senior Lacy Harvey (106), junior Dylan Rhoads (132), senior Noah Peterson (190), senior Blake Schaffer (215), and senior Cameron Brazek (285) all won by pin to lead Louisville. Junior Dominic Hoffarth (144) also won by 19-4 technical fall for the Leopards only other victory on the mat.
Louisville was the beneficiary of five Tuslaw forfeits. Leopards winners by forfeit included junior Connor Novosel (113), sophomore Kolten Barker (120), senior Pablo Castro (138), junior Jude Yeager (165), and senior Brenden Severs (175). The forfeit to Castro was the 100th victory of his high school career.
---
Louisville Closes Match With 30 Unanswered
The Leopards took an 18-0 lead at the onset of the match before Sam Knouse (126) won by fall to put the Mustangs on the board. Louisville claimed the next three bouts to pull ahead 35-6.
Tuslaw won the next two matches to get within 35-15 before Louisville closed the match with 30 unanswered points. The Mustangs forfeited the next two matches and the Leopards pinned the opposition in each of the final three weight classes to finish the night.
UP NEXT:The Leopards will next compete at the Walsh Jesuit Ironman Invitational on Friday, December 10 and Saturday, December 11.
---
Tuslaw at Louisville Westling Box Score
LEOPARDS 65, MUSTANGS 15
106 – Lacy Harvey (Louisville) pins Lucas Bucher (Tuslaw), 0:50 | LHS 6, THS 0
113 – Connor Novosel (Louisville) wins by forfeit | LHS 12, THS 0
120 – Kolten Barker (Louisville) wins by forfeit | LHS 18, THS 0
126 – Sam Knouse (Tuslaw) pins Brayden Long (Louisville), 1:44 | LHS 18, THS 6
132 – Dylan Rhoads (Louisville) pins Thomas Snyder (Tuslaw), 2:40 | LHS 24, THS 6
138 – Pablo Castro (Louisville) wins by forfeit | LHS 30, THS 6
144 – Dominic Hoffarth (Louisville) tech. fall Maxwell Cooper (Tuslaw), 19-4 | LHS 35, THS 6
150 – Jacob Lyons (Tuslaw) dec. Josiah Walker (Louisville), 11-5 | LHS 35, THS 9
157 – Devyn Vanest (Tuslaw) pins Wyatt Smith (Louisville), 1:52.9 | LHS 35, THS 15
165 – Jude Yeager (Louisville) wins by forfeit | LHS 41, THS 15
175 – Brenden Severs (Louisville) wins by forfeit | LHS 47, THS 15
190 – Noah Peterson (Louisville) pins Liam McCollister (Tuslaw), 1:45.8 | LHS 53, THS 15
215 – Blake Schaffer (Louisville) pins Brock Amstutz (Tuslaw), 1:37.9 | LHS 59, THS 15
285 – Cameron Brazek (Louisville) pins Ashton Combs (Tuslaw), 2:19 | LHS 65, THS 15
---
Donate to Leopard Nation
---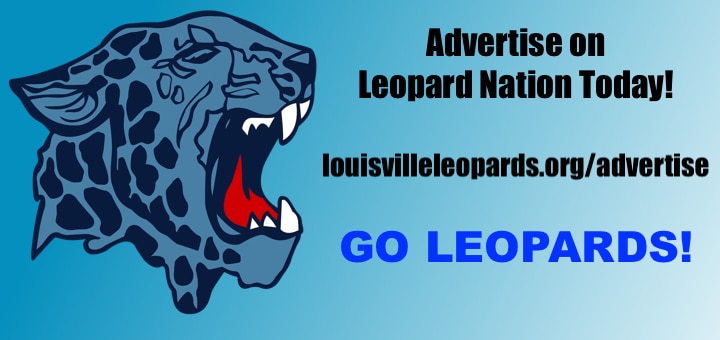 Don't forget to Subscribe to Our Posts for Free
You can also Submit an Article