Leopards Double Up St. Ignatius Blue 4-2 – Baseball
Louisville 4, St. Ignatius Blue 2
<<< Previous Vs. Strongsville | Baseball Schedule | Next Vs. St. Vincent-St. Mary >>>
The Louisville Leopards Varsity Baseball Team doubled up the visiting St. Ignatius (Blue) Wildcats Wednesday at Andy Aljancic Field. With the win, Louisville improved to 5-2 on the season.
---
Seaman Drives In Go-Ahead Run Twice
Junior right fielder Zack Seaman batted 3-for-6 and drove in a pair of runs to lead the Leopards. Seaman drove in junior third baseman Caleb Miller on a fielder's choice in the bottom of the second inning to give Louisville their first lead of the game at 2-1. Later with the game tied 2-2 in the bottom of the fourth inning, Seaman cracked a 2-out RBI single to right field scoring the go-ahead run in sophomore second baseman Connor Morley from second.
---
.
---
Warner Earns 2nd Win, Miller 1st Save
The Leopards pitching did the rest. Junior starter Anthony Warner pitched five strong innings, gave up 2 earned runs on 5 hits, and struck out 3 in earning his second victory of the season. Miller closed out the final two innings without giving up a run, surrendering just 1 hit, and striking out 2. The effort earned him his first career varsity save on the mound.
---
Adelman Doubles In Jackson for Insurance Run2
Louisville tacked on an insurance run in the bottom of the sixth. Tyler Jackson walked to start the inning and advanced into scoring position via Miller's sacrifice bunt. The next Leopard batter struck out for the second out of the frame. Then junior left fielder Connor Adelman hit the first pitch he saw to right field for a double that scored Jackson from second to make it 4-2.
Jackson also scored Louisville's first run of the game earlier in the second inning. Jackson led off the inning by reaching base, and also advancing to second, on a throwing error. He then found his way to third and scored on a pair of wild pitches to knot the game at 1-1.
---
Palinski Leads St. Ignatius with a Pair of Hits
Despite the loss, the Wildcats out-hit the Leopards 6-4 for the game. Sophomore center fielder Max Palinski led St. Ignatius by going 2-for-4 with an RBI single in the first inning and a 2-out double in the last of the seventh.
Junior right fielder Connor Gromen drove in the other Wildcat run in the top of the fourth. His sacrifice fly to right field brought home Schwark from third to tie the game at 2-2.
JV: St. Ignatius 11, Louisville 0, 6 Innings
UP NEXT: The Louisville Baseball Team will next host the Akron St. Vincent-St. Mary Fighting Irish on Saturday, April 10 at Noon.
---
Donate to Leopard Nation
---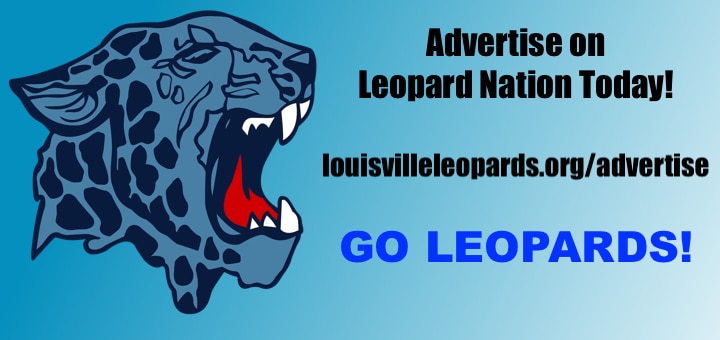 Don't forget to Subscribe to Our Posts for Free
VARSITY BASEBALL BOX SCORE
LEOPARDS 4, WILDCATS 2
Team 123-456-7–R-H-E
St. Ignatius Blue 100-100-0–2-6-1
Louisville 020-101-X–4-6-0
ST. IGNATIUS BLUE BASEBALL VARSITY BATTING STATS
| Lineup | AB | R | H | RBI | BB | SO |
| --- | --- | --- | --- | --- | --- | --- |
| Fabe | 4 | 0 | 0 | 0 | 0 | 3 |
| Rice | 3 | 1 | 1 | 0 | 0 | 0 |
| Gromen | 3 | 0 | 0 | 1 | 1 | 1 |
| Palinski | 4 | 0 | 2 | 1 | 0 | 0 |
| Sidloski | 3 | 0 | 0 | 0 | 0 | 0 |
| Bender | 3 | 0 | 1 | 0 | 0 | 1 |
| Gould | 2 | 0 | 0 | 0 | 1 | 1 |
| Schwartz | 3 | 1 | 1 | 0 | 0 | 0 |
| Uzl | 2 | 0 | 1 | 0 | 1 | 0 |
| Gaich | 0 | 0 | 0 | 0 | 0 | 0 |
| Socha | – | – | – | – | – | – |
| Totals | 27 | 2 | 6 | 2 | 3 | 6 |
ST. IGNATIUS BLUE BASEBALL VARSITY PITCHING STATS
| Pitching | IP | #P | S% | H | R | ER | SO | BB | HR |
| --- | --- | --- | --- | --- | --- | --- | --- | --- | --- |
| Gaich | 3.0 | 59 | .475 | 3 | 2 | 2 | 2 | 3 | 0 |
| Socha | 3.0 | 37 | .541 | 3 | 2 | 1 | 2 | 2 | 0 |
| Gould | 0.0 | 0 | .000 | 0 | 0 | 0 | 0 | 0 | 0 |
| Totals | 6.0 | 96 | .500 | 6 | 4 | 3 | 4 | 5 | 0 |
LOUISVILLE LEOPARDS BASEBALL VARSITY BATTING STATS
| Lineup | AB | R | H | RBI | BB | SO |
| --- | --- | --- | --- | --- | --- | --- |
| Zack Seaman | 6 | 0 | 3 | 1 | 0 | 0 |
| Charlie Roberts | 1 | 0 | 0 | 0 | 1 | 0 |
| Broc Pickens | 2 | 0 | 0 | 0 | 0 | 0 |
| Karson Siegfried | 3 | 0 | 0 | 0 | 0 | 2 |
| Walker Kandel | 2 | 0 | 0 | 0 | 0 | 0 |
| Tyler Jackson | 2 | 2 | 1 | 0 | 1 | 0 |
| Caleb Miller | 1 | 1 | 0 | 0 | 1 | 1 |
| Connor Morley | 2 | 1 | 1 | 0 | 0 | 1 |
| Connor Adelman | 1 | 0 | 1 | 1 | 2 | 0 |
| Anthony Warner | 0 | 0 | 0 | 0 | 0 | 0 |
| Totals | 20 | 4 | 6 | 2 | 5 | 4 |
LOUISVILLE LEOPARDS BASEBALL VARSITY PITCHING STATS
| Pitching | IP | #P | S% | H | R | ER | SO | BB | HR |
| --- | --- | --- | --- | --- | --- | --- | --- | --- | --- |
| Anthony Warner | 5.0 | 84 | .571 | 5 | 2 | 2 | 4 | 3 | 0 |
| Caleb Miller | 2.0 | 24 | .625 | 1 | 0 | 0 | 2 | 0 | 0 |
| Totals | 7.0 | 108 | .583 | 6 | 2 | 2 | 6 | 3 | 0 |
Records: Louisville 5-2