Louisville Earns Road Win at Perry 161-181 – Boys Golf
Louisville 161, Perry 181
<<< Previous Nordonia Classic | Boys Golf Schedule | Next Vs. Sandy Valley >>>
The Louisville Leopards Boys Golf Team defeated the host Perry Panthers 161-181 Monday at The Legends of Massillon East Course (Par 36). With their second straight victory, Louisville improves to 2-1 in dual matches this season.
---
Mayle Shoots Match Best 39 to Lead Louisville
Junior Jack Mayle shot a match best 3 over par 39 to lead the Leopards. Junior Cole Miller also finished just behind Mayle shooting 4 over par 40 for Louisville. Senior Caleb Harsh and junior Zach Root carded 41 each to round out the LHS scoring.
The 161 total is the Leopards lowest team score for a 9-hole away match since 2015 when they defeated Alliance 161-165 at Sleepy Hollow.
---
---
Frazee Cards Team Best 41 to Lead Perry
Perry (0-2) was led by Hayden Frazee who shot a team best 41. Other scorers for the Panthers included Tayler DeRoy 42, Will Willis 48, and Tyler Burkholder/Mason Mohr who shot 50 each to tie for the fourth best total.
Perry swept the season series with Louisville last season winning by a single stroke 178-179 at Sleepy Hollow and taking the match at the Legends of Massillon 166-186. The Leopards reversed their 20-stroke loss with a 20-stroke victory over Perry at the Legends of Massillon Monday and will look to take the season series on September 8 when they host the Panthers.
UP NEXT: The Leopards will next host the Sandy Valley Cardinals on Thursday, August 25. Match is slated to begin at 4:00 PM from Sleepy Hollow Country Club.
<<< Previous 2021 At Perry | Perry All-Time Series
---
Louisville at Perry Boys Golf Box Score
Varsity: Leopards 161, Panthers 181
The Legends – East – Par 36
LEOPARDS SCORES: Jack Mayle 39, Cole Miller 40, Caleb Harsh 41, Zach Root 41. TEAM TOTAL = 161
PANTHERS SCORES: Hayden Frazee 41, Tayler DeRoy 42, Will Willis 48, Tyler Burkholder 50, Mason Mohr 50. TEAM TOTAL = 181
Records: Louisville 2-1, Perry 0-2
JV: Leopards 200, Perry 202
The Legends – North
LEOPARDS SCORES: Michael Filipowicz 45, Trey Davis 46, Ian DiMarzio 49, Joey Duncan 60. TEAM TOTAL = 200
PERRY SCORES: N/A
---
Donate to Leopard Nation
---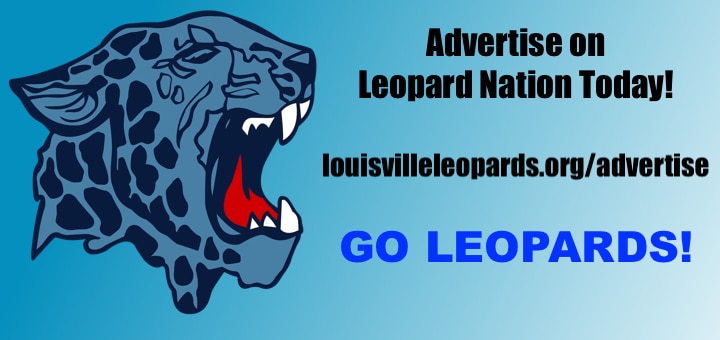 Don't forget to Subscribe to Our Posts for Free