Leopards Maul Minerva 184-268 – Girls Golf
Louisville 184, Minerva 268
<<< Previous Tri at Marlington | Girls Golf Schedule | Next Match At Kent Roosevelt >>>
The Louisville Leopards Girls Golf Team defeated the visiting Minerva Lions 184-268 Tuesday in a steady rain at Pleasant View Golf Club. With the victory, Louisville evens their mark on the year to 3-3.
---
---
Biery Cards Match Low 42 to Lead Leopards
Junior Peyton Biery shot a match low 7 over par 42 to lead the Lady Leopards. Biery's day was highlighted by a birdie on the 4th hole.
Junior Anna Myers and freshman Natalie Warner both shot 48 each for Louisville. Senior Kylie Wallace rounded out the Leopards scoring with a 48.
In the fifth position, senior Rachel Devins shot her lifetime low competitive round in carding a 51. Devins finished nine strokes ahead of Minerva's lowest score for the day to complete a clean sweep for Louisville.
---
Lukowski Tallies Team Low 60 for Minerva
Senior Calee Lukowski shot a team low 60 to lead the Lady Lions. Mady Bartley and Lily Mitchell also shot 68 each for Minerva. Addisyn Johnson rounded out the MHS scoring with 72.
---
Leopards Now 8-0 at Home Vs. Lions
The Lady Leopards have now won 8 of their last 9 matchups with the Lady Lions overall dating back to 2015. Louisville has never lost to Minerva at home as they improve to 8-0 all-time and 3-0 against the Lions when playing at Pleasant View Golf Club. The Lady Leopards now lead the all-time series 13-4 overall
<<< Previous At Minerva | Minerva All-Time Series
UP NEXT:The Lady Leopards will travel to take on the Kent Roosevelt Rough Riders on Wednesday, September 7. Tee-time is slated for 3:15 PM from Sable Creek Golf Course.
COVER PHOTO BY THE LOUISVILLE HERALD
---
Minerva at Louisville Girls Golf Box Score
LEOPARDS 184, LIONS 268
Pleasant View Golf Club, Par 35
LEOPARDS SCORES: Peyton Biery 42, Anna Myers 47, Natalie Warner 47, Kylie Wallace 48, Rachel Devins 51. TEAM TOTAL = 184
LIONS SCORES: Calee Lukowski 60, Mady Bartley 68, Lily Mitchell 68, Addisyn Johnson 72, Libby Barr 74, Ryleigh Mitchell 77. TEAM TOTAL = 268
Records: Louisville 3-3
---
Donate to Leopard Nation
---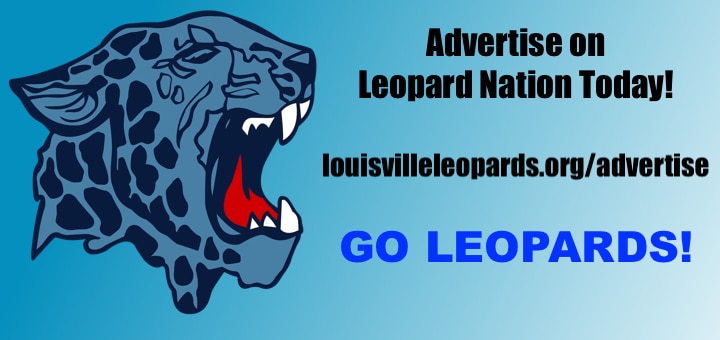 Don't forget to Subscribe to Our Posts for Free