Lady Leopards Place 5th, Boys 6th at Jackson Twilight – Track and Field
The Louisville Leopards Varsity Track and Field Teams competed at the Jackson Twilight Friday Night at Jackson High School. The Louisville Boys finished with 46 points to take sixth out of eight teams. The Lady Leopards tallied 52 points to take fifth place out of nine teams.
Boys Recap | Boys Team Scores | Boys Individual Results
Girls Recap | Girls Team Scores | Girls Individual Results
---
Boys: Louisville 46 (6th Out of 8)
RECAP NOT YET PROVIDED
---
Girls: Louisville 52 (5th Out of 9)
The girls' track team once again braved the chilly spring conditions and prevailed with some season best performances. The top performances went to seniors Diana Pukys and Camryn Barker. Pukys won the 800 by just over four seconds with a season best time of 2:20.49. Barker then ran away from the field in the 3200 also posting a season best time of 11:49.80. Camryn also ran the 1600 and posted a season best time of 5:37.22, which was good for 3rd place.
The duo then teamed up with Bailey Menegay and Marisa Brown to place fourth in the 4 x 800 relay with a time of 10:28.07. Brown ran at or close to her best in the 800 meters when she crossed the line in 2:38.82 and placed 6th. Brown then returned to the track with Pukys and teamed up with freshman Hailey Jackson, and Taryn Gotschall to place 4th in the 4 x 400 running a time of 4:36.48. Jackson was close to her season best in the 400 with a time of 65.76, which earned her a 7th place finish. Jackson, Gotschall, Gabby Rich-DeGasperis and Payton Allan placed 7th in the 4 x 100 relay. The quartet ran a season best performance of 55.03. The 4 x 200 relay team of Taylor Balestra, Gracie Wilson, Taryn Gotschall, and Landyn Scheetz placed 8th with a time of 2:02.51. Gotchall also scored in the 300 hurdles running 54.28 just off of her personal best time set this past Wednesday. In the throwing events, Sloane Sypolt tossed the shot 30′ 5″,which placed her 6th and then threw a life time best of 96′ 9″ in the discus to earn her a 5th place finish.
The girls are looking forward to the warmer temperatures that are forecasted next week so they can continue to make the big improvements that have been obtained over the past two weeks.
On Monday, a group of 8 athletes will be competing in the Stars of Track and Field and Woodridge High School. The next full team competition will take place next Saturday at Canton Central Catholic.
– Head Coach Jerry Fresenko
UP NEXT:The Leopards will next compete at the Stars of Track and Field Meet at Woodridge High School on Monday, May 9 at 3:45 PM.
Cover Photo By The Louisville Herald
---
Donate to Leopard Nation
---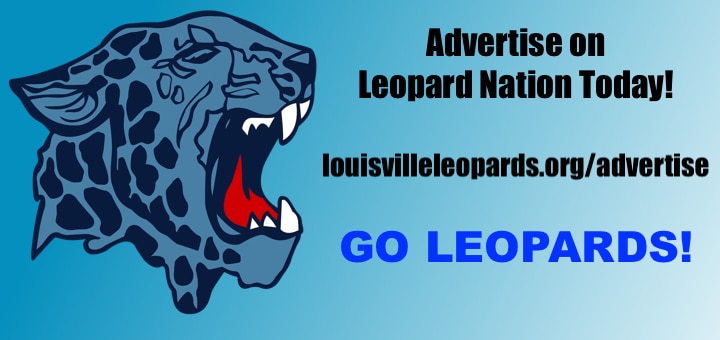 Don't forget to Subscribe to Our Posts for Free
---
Jackson Twilight Boys Team Scores
                    Men - Team Rankings - 17 Events Scored
===============================================================================
    1) Hudson                     166.50     2) Mas. Jackson              124   
    3) Hoover                      95.50     4) Wooster                    79   
    4) Canton McKinley             79        6) Louisville                 46   
    7) Canton South                30        8) Northwest                  25
---
Jackson Twilight Girls Team Scores
                   Women - Team Rankings - 17 Events Scored
===============================================================================
    1) Mas. Jackson               179        2) Hudson                    138   
    3) Wooster                     98        4) Hoover                     97   
    5) Louisville                  52        6) Canton McKinley            43   
    7) Northwest                   34        8) Canton South               17   
    9) St. Thomas Aquinas           5
---
Jackson Twilight Boys Individual Results
Boys 100 Meter Dash
===================================================================================
    Name                    Year School                  Seed     Finals  H# Points
===================================================================================
  1 Ruffin, Caleb             12 Canton McKin           10.68      10.92   2  10   
  2 Pierce, Colin             12 Hudson                 10.91      11.01   2   8   
  3 Winston, Davion           12 Canton McKin           11.34      11.48   2   6   
  4 Gogusoglu, Akito          11 Hudson                 11.50      11.57   2   5   
  5 Halmasy, Jim              12 Hoover                 11.50      11.63   2   4   
  6 Martin, Akil              12 Canton South           11.58      11.63   1   3   
  7 Hamilton-Topovski, Lande  10 Wooster                11.77      11.75   1   2   
  8 Gross, Anthony            12 Hoover                 11.50      11.76   2   1   
  9 Welton, Reese             11 Mas. Jackson           11.55      12.00   2 
 10 Ortiz, Jayden             10 Wooster                12.20      12.07   1 
 11 Kistler, Mack             12 Mas. Jackson           11.75      12.15   1 
 12 Berry, Jayden             12 Northwest              11.93      12.20   1 
 13 Satterfield, Connor       10 Northwest              12.12      12.31   1 
 14 Hubbard-Wray, Alan        10 Canton South           12.34      12.52   1 
 
Boys 200 Meter Dash
===================================================================================
    Name                    Year School                  Seed     Finals  H# Points
===================================================================================
  1 Pierce, Colin             12 Hudson                 22.60      21.86   2  10   
  2 Ruffin, Caleb             12 Canton McKin           22.20      22.01   2   8   
  3 Mickley, Kael             12 Louisville             22.77      22.13   2   6   
  4 Pinkney, BriRell          11 Canton McKin           23.80      22.79   2   5   
  5 James, Kevin              12 Mas. Jackson           23.25      23.37   2   4   
  6 Halmasy, Jim              12 Hoover                 23.50      23.39   2   3   
  7 Gross, Anthony            12 Hoover                 23.50      23.88   2   2   
  8 Dellafave, Andrew         12 Wooster                24.40      23.93   1   1   
  9 Satterfield, Kristian      9 Mas. Jackson           23.85      24.22   1 
 10 Davis, Tyler              10 Wooster                24.50      24.25   1 
 11 Hubbard-Wray, Alan        10 Canton South                      25.72   1 
 
Boys 400 Meter Dash
===================================================================================
    Name                    Year School                  Seed     Finals  H# Points
===================================================================================
  1 Ruffin, Colin             12 Canton McKin           50.00      50.30   2  10   
  2 Travis, Tyler             11 Hudson                 50.80      50.55   2   8   
  3 Anderson, Seth            11 Louisville             51.10      50.79   2   6   
  4 James, Kevin              12 Mas. Jackson           51.20      51.09   2   5   
  5 Smith, Austin             12 Louisville             51.50      51.35   2   4   
  6 Rambaud, Austin           12 Hoover                 52.00      52.71   2   3   
  7 Dobina, Cole              10 Mas. Jackson           53.85      53.72   2   2   
  8 Pinkney, BriRell          11 Canton McKin           54.80      54.12   1   1   
  9 Easterling, Dylan         10 Northwest              53.28      54.26   2 
 10 Robbins, Cooper           12 Canton South           53.96      54.48   1 
 11 Ross, Ethan               12 Hudson                 53.90      54.66   1 
 12 Dellafave, Andrew         12 Wooster                54.20      55.74   1 
 13 Berry, Trevor             12 Wooster                57.60      58.34   1 
 
Boys 800 Meter Run
================================================================================
    Name                    Year School                  Seed     Finals  Points
================================================================================
  1 Casey, Titan              12 Hudson               1:57.76    1:59.50   10   
  2 Prato, Will               10 Mas. Jackson         1:58.55    2:00.59    8   
  3 Jones, Noble              10 Hudson               2:03.00    2:06.94    6   
  4 Reed, Carson              12 Mas. Jackson         2:05.00    2:08.58    5   
  5 Brown, Grant              10 Louisville           2:04.00    2:09.98    4   
  6 Thompson, Gabriel         11 Wooster              2:09.00    2:10.14    3   
  7 Keating, Ethan            11 Wooster              2:11.00    2:11.46    2   
  8 Mosholder, Thomas         11 Hoover               2:12.00    2:12.90    1   
  9 McHolm, Gabe              10 Hoover               2:12.00    2:18.65  
 10 Reid, Theo                10 Canton McKin         2:16.00    2:21.67  
 11 Himebaugh, Hunter         10 Canton McKin         2:23.00    2:26.30  
 12 Norris, John               9 Canton South                    2:35.11  
 
Boys 1600 Meter Run
================================================================================
    Name                    Year School                  Seed     Finals  Points
================================================================================
  1 Keating, Ethan            11 Wooster              4:34.00   J4:36.01   10   
  2 Craig, Jacob              10 Hoover               4:38.00   J4:38.57    8   
  3 Zuckett, Elliot           10 Mas. Jackson         4:42.00   J4:40.68    5   
  3 Brown, Grant              10 Louisville           4:41.00   J4:40.68    6   
  5 Romano, Ben               12 Hudson               4:49.00   J4:44.23    4   
  6 Thompson, Gabriel         11 Wooster              4:45.50   J4:48.80    3   
  7 Gearling, Hunter          10 Canton McKin         4:55.00   J4:52.03    2   
  8 Mosholder, Thomas         11 Hoover               4:48.00   J4:53.58    1   
  9 Huzyak, Josh              10 Mas. Jackson         4:39.00    4:56.95  
 10 Downs, Jack               10 Northwest            5:00.33    5:00.08  
 11 Hartline, Drew            12 Hudson               4:48.00    5:00.58  
 12 Micklos, Andrew           10 Northwest            5:11.96    5:14.70  
 13 Reid, Theo                10 Canton McKin         5:09.00    5:22.59  
 14 Barcalow, Caleb           11 Canton South         5:11.00    5:32.19  
 
Boys 3200 Meter Run
================================================================================
    Name                    Year School                  Seed     Finals  Points
================================================================================
  1 Ilg, Eli                   9 Mas. Jackson         9:45.00    9:36.51   10   
  2 Dunlap, Ashton            12 Wooster              9:57.00    9:39.36    8   
  3 LeVan, Colin              11 Hudson               9:48.00    9:44.97    6   
  4 Zito, Mario               12 Northwest           10:08.63   10:04.28    5   
  5 Ball, Cael                10 Mas. Jackson        10:05.00   10:17.29    4   
  6 Medina, Zavier             9 Hoover              10:10.00   10:26.58    3   
  7 Ginther, Tyler             9 Hudson              10:25.00   10:34.89    2   
  8 Renner, Kevin             10 Hoover              10:10.00   10:38.50    1   
  9 Stansifer, Jackson        10 Wooster             10:52.00   10:39.16  
 10 Micklos, Andrew           10 Northwest           11:34.69   10:41.05  
 11 Gearling, Hunter          10 Canton McKin        10:40.00   11:25.07  
 
Boys 110 Meter Hurdles
===================================================================================
    Name                    Year School                  Seed     Finals  H# Points
===================================================================================
  1 Vazquez, Alex             10 Canton McKin           15.87      15.97   2  10   
  2 Lackey, Justin            10 Mas. Jackson           16.25      16.24   2   8   
  3 Wood, Jeffrey             10 Hudson                 16.40      16.33   2   6   
  4 Putnam, Grant             11 Hudson                 16.70      16.68   2   5   
  5 Ross, Hunter              11 Hoover                 16.46      17.21   2   4   
  6 Dalayanis, Anthony        12 Mas. Jackson                      17.42   2   3   
  7 Lee, Ethan                11 Wooster                19.12      19.88   1   2   
  8 Zdelar, Brendan           12 Canton McKin           18.99      21.84   1   1   
  9 Weeman, David             11 Wooster                22.20      21.98   1 
 
Boys 300 Meter Hurdles
===================================================================================
    Name                    Year School                  Seed     Finals  H# Points
===================================================================================
  1 Wood, Jeffrey             10 Hudson                 42.40      42.00   2  10   
  2 Lackey, Justin            10 Mas. Jackson           41.95      42.21   2   8   
  3 Putnam, Grant             11 Hudson                 42.20      43.23   2   6   
  4 Ross, Hunter              11 Hoover                 43.50      44.65   2   5   
  5 Berry, Jayden             12 Northwest              43.90      45.77   2   4   
  6 Vazquez, Alex             10 Canton McKin           43.80      47.42   2   3   
  7 Dalayanis, Anthony        12 Mas. Jackson                      47.69   2   2   
  8 Van Lieu, Alan            11 Wooster                47.80      48.34   1   1   
  9 Williams, Amarion         12 Canton McKin           46.90      49.07   1 
 10 Hole, Seth                12 Canton South           45.44      49.36   1 
 
Boys 4x100 Meter Relay
================================================================================
    School                                               Seed     Finals  Points
================================================================================
  1 Canton South                                        46.00      46.33   10   
     1) Kennedy, Blake 12               2) Moses, Gavin 12                
     3) Lott, Caleb 12                  4) Martin, Akil 12                
  2 Wooster                                             45.80      46.92    8   
     1) Walker, Tristin 9               2) Davis, Tyler 10                
     3) Dossi, Andrew 12                4) Hamilton-Topovski, Landen 10   
  3 Hudson                                              45.88      47.02    6   
     1) Just, Benjamin 12               2) Gogusoglu, Akito 11            
     3) Spohn, Ronan 11                 4) Cosentino, Xander 12           
  4 Mas. Jackson                                        45.50      47.84    5   
     1) Ford, Ethan 11                  2) Lackey, Justin 10              
     3) Satterfield, Kristian 9         4) Kistler, Mack 12               
 -- Canton McKinley                                     42.90         DQ  
     1) Lewis, Da'Vontz 11              2) Marshall, Brazhion 12          
     3) Winston, Davion 12              4) Ruffin, Caleb 12               
 
Boys 4x200 Meter Relay
================================================================================
    School                                               Seed     Finals  Points
================================================================================
  1 Canton McKinley                                   1:28.99    1:29.79   10   
     1) Pinkney, BriRell 11             2) Marshall, Brazhion 12          
     3) Ruffin, Colin 12                4) Ruffin, Caleb 12               
  2 Hudson                                            1:31.06    1:32.28    8   
     1) Proctor, L.T. 12                2) Gogusoglu, Akito 11            
     3) Travis, Tyler 11                4) Pierce, Colin 12               
  3 Mas. Jackson                                      1:36.00    1:35.30    6   
     1) James, Kevin 12                 2) Lackey, Justin 10              
     3) Murray, Max 11                  4) Ford, Ethan 11                 
  4 Wooster                                           1:35.80    1:36.35    5   
     1) Dellafave, Andrew 12            2) Davis, Tyler 10                
     3) Walker, Tristin 9               4) Hamilton-Topovski, Landen 10   
  5 Canton South                                      1:40.27    1:46.61    4   
     1) Long, Lance 9                   2) Norris, John 9                 
     3) Hubbard-Wray, Alan 10           4) Slatzer, Brandon 12            
 
Boys 4x400 Meter Relay
================================================================================
    School                                               Seed     Finals  Points
================================================================================
  1 Louisville                                        3:27.00    3:27.61   10   
     1) Mickley, Kael 12                2) Pinion, Ty 10                  
     3) Anderson, Seth 11               4) Smith, Austin 12               
  2 Hudson                                            3:27.95    3:28.27    8   
     1) Pierce, Colin 12                2) Travis, Tyler 11               
     3) Jones, Noble 10                 4) Casey, Titan 12                
  3 Mas. Jackson                                      3:33.72    3:33.32    6   
     1) Dobina, Cole 10                 2) James, Kevin 12                
     3) Murray, Max 11                  4) Prato, Will 10                 
  4 Canton McKinley                                   3:39.00    3:48.39    5   
     1) Pinkney, BriRell 11             2) Vazquez, Alex 10               
     3) Winston, Davion 12              4) Ruffin, Colin 12               
  5 Northwest                                         3:46.35    3:49.00    4   
     1) Sokolowski, Colin 12            2) Downs, Jack 10                 
     3) Berry, Jayden 12                4) Easterling, Dylan 10           
  6 Wooster                                           3:42.00    3:53.86    3   
     1) Dellafave, Andrew 12            2) Davis, Tyler 10                
     3) Walker, Tristin 9               4) Van Lieu, Alan 11              
  7 Canton South                                      3:48.88    3:57.80    2   
     1) Robbins, Cooper 12              2) Hole, Seth 12                  
     3) Slatzer, Brandon 12             4) Laughlin, Ian 12               
 
Boys 4x800 Meter Relay
================================================================================
    School                                               Seed     Finals  Points
================================================================================
  1 Louisville                                        7:51.00    8:09.02   10   
     1) Adams, Colby 12                 2) Ganser, Bobby 12               
     3) Ulrich, Stephen 12              4) Pukys, Owen 12                 
  2 Mas. Jackson                                      8:15.00    8:22.96    8   
     1) Hoffman, Austin 9               2) Prato, Will 10                 
     3) Reed, Carson 12                 4) Ilg, Eli 9                     
  3 Hudson                                            8:30.00    8:35.15    6   
     1) Daberko, Mack 12                2) Root, Brendan 11               
     3) Good, Matt 12                   4) McDaniel, Cannon 11            
  4 Wooster                                           8:32.00    8:44.43    5   
     1) Thompson, Gabriel 11            2) Stansifer, Jackson 10          
     3) Keating, Ethan 11               4) Dunlap, Ashton 12              
  5 Northwest                                         8:39.36    8:51.92    4   
     1) Zito, Mario 12                  2) Micklos, Andrew 10             
     3) Downs, Jack 10                  4) Easterling, Dylan 10           
  6 Hoover                                            8:40.00    8:53.47    3   
     1) Mosholder, Thomas 11            2) Renner, Kevin 10               
     3) McHolm, Gabe 10                 4) Medina, Zavier 9               
  7 Canton South                                      8:58.00    9:30.78    2   
     1) Robbins, Cooper 12              2) Tello-Sunderman, Renzo 9       
     3) Laughlin, Ian 12                4) Hole, Seth 12                  
 
Boys High Jump
================================================================================
    Name                    Year School                  Seed     Finals  Points
================================================================================
  1 Mack, Roddric             12 Hoover               6-01.00   J6-00.00   10   
  2 Nosky, Zachary            11 Mas. Jackson         6-00.00   J5-10.00    7   
  2 Proctor, L.T.             12 Hudson               6-00.00   J5-10.00    5   
  2 Jolly, Kenyonn            10 Wooster              5-11.00   J5-10.00    4   
  2 Bayliss, Scott            10 Hudson               5-10.00   J5-10.00    7   
  6 Lott, Caleb               12 Canton South         5-08.00   J5-08.00    3   
  6 Morgan, Bronson           11 Wooster              5-08.00   J5-08.00    2   
  8 Marshall, Brazhion        12 Canton McKin         5-08.00   J5-04.00    1   
  9 Williams, Amarion         12 Canton McKin                    5-00.00  
 
Boys Pole Vault
================================================================================
    Name                    Year School                  Seed     Finals  Points
================================================================================
  1 Boyd, Mason               12 Mas. Jackson        10-06.00  J11-06.00   10   
  2 Wolfeden, Ren             10 Mas. Jackson        12-00.00  J11-00.00    8   
  2 Miller, Brock             11 Hudson              11-06.00  J11-00.00    6   
  4 Smart, Robbie             12 Hoover              10-06.00  J10-06.00    5   
  5 Rotolo, Connor            12 Wooster             10-06.00  J10-00.00    4   
  5 Bragg, T.J.               12 Hoover              10-06.00  J10-00.00    3   
  7 Huminsky, Isaac           12 Hudson               9-06.00   J9-00.00    2   
  8 Post, David                9 Canton McKin         8-06.00   J7-06.00    1   
  9 Salazar, Santiago          9 Wooster              7-06.00    7-00.00  
 
Boys Long Jump
================================================================================
    Name                    Year School                  Seed     Finals  Points
================================================================================
  1 Proctor, L.T.             12 Hudson              21-00.00   20-06.25   10   
  2 Mack, Roddric             12 Hoover              20-04.00   20-01.50    8   
  3 Winston, Davion           12 Canton McKin        21-02.00   19-09.50    6   
  4 Hackett, Dylan            12 Hoover              19-11.00   19-08.75    5   
  5 Dalayanis, Anthony        12 Mas. Jackson        20-05.00   18-06.75    4   
  6 Martin, Akil              12 Canton South        19-04.00   18-03.25    3   
  7 Simmons, Luke             10 Canton South        17-02.00   17-05.75    2   
  8 Berry, Trevor             12 Wooster             18-03.00   17-05.50    1   
  9 Morgan, Bronson           11 Wooster             19-03.00   16-09.75  
 10 Lo, Thomas                12 Canton McKin        18-10.00   16-07.50  
 10 Friel, Wylan              11 Hudson              19-01.25   16-07.50  
 12 Lofland, Trystan          11 Louisville          18-05.00   16-03.00  
 13 Sokolowski, Colin         12 Northwest           18-04.50   15-10.75  
 
Boys Shot Put
================================================================================
    Name                    Year School                  Seed     Finals  Points
================================================================================
  1 Arnold, Steve             12 Hoover              50-05.00   50-05.00   10   
  2 Dixon, Grahm              12 Wooster             47-08.00   49-05.00    8   
  3 Toth, Blake               11 Hudson              48-04.00   47-04.00    5.50
  3 Shimek, Michael           12 Hoover              49-03.00   47-04.00    5.50
  5 Shabino, Ben              10 Hudson              42-08.75   44-04.00    4   
  6 Giusti, Tristan           12 Mas. Jackson        42-00.00   43-10.00    3   
  7 Satterfield, Connor       10 Northwest           42-02.00   43-06.00    2   
  8 Geer, Aidan               10 Canton South        37-10.00   43-00.50    1   
  9 Ward, Kenny               11 Mas. Jackson        41-00.00   41-05.50  
 10 Lafay, Isaac              11 Northwest           38-08.00   41-03.00  
 11 Brazek, Cameron           12 Louisville          42-02.00   40-10.00  
 12 Lamb, Kaleb               12 Wooster             40-11.50   40-00.00  
 13 Guizar, Matthew           11 Canton South        38-05.00   35-10.00  
 14 Lopez-Cruz, Omar          12 Louisville          38-04.00   35-08.00  
 15 Mack, Mehki               10 Canton McKin                   32-07.00  
 
Boys Discus Throw
================================================================================
    Name                    Year School                  Seed     Finals  Points
================================================================================
  1 Arnold, Steve             12 Hoover                162-02     151-01   10   
  2 Toth, Blake               11 Hudson                150-00     149-09    8   
  3 Howman-Williams, Michael  11 Wooster               138-00     142-10    6   
  4 Shabino, Ben              10 Hudson                130-11     135-01    5   
  5 Satterfield, Connor       10 Northwest             133-07     132-03    4   
  6 Lovell, Jake              12 Mas. Jackson          135-00     126-09    3   
  7 Lafay, Isaac              11 Northwest             125-00     123-07    2   
  8 Walker, Jaymin            11 Wooster               123-09     122-02    1   
  9 Hamilton, Ashton          12 Mas. Jackson          125-00     114-06  
 10 Creger, Antonio            9 Canton South          110-00     112-09  
 11 Noll, Cory                11 Canton South          110-00     108-06  
 12 Brazek, Cameron           12 Louisville            115-05     105-11  
 13 Woolbert, Garrett         11 Hoover                120-00     102-06  
 14 Oneal, Jaylee             10 Canton McKin           97-08      82-09  
 15 Mack, Mehki               10 Canton McKin                      79-05  
 -- Lopez-Cruz, Omar          12 Louisville            105-07       FOUL
---
Jackson Twilight Girls Individual Results
Girls 100 Meter Dash
===================================================================================
    Name                    Year School                  Seed     Finals  H# Points
===================================================================================
Finals
  1 Harsh, Amahrie            10 Hoover                 12.50      12.78   2  10   
  2 Kelley, Kayla             12 Mas. Jackson           12.68      12.83   2   8   
  3 Miele, Ellie               9 Hudson                 12.79      12.93   2   6   
  4 Cameron, Leah             11 Canton McKin           13.40      13.23   2   5   
  5 Clay, Mackenzie           11 Hoover                 13.10      13.47   2   4   
  6 Iuston, Brooke             9 Hudson                 13.29      13.55   2   3   
  7 Lusk, Kaylee               9 Mas. Jackson           12.86      13.57   2   2   
  8 Eagle, Ava                11 Wooster                13.61      13.76   1   1   
  9 Rich-DeGasperis, Gabriel  10 Louisville             13.85      13.84   1 
 10 Lazarus, Olivia           11 Northwest              13.69      13.88   1 
 11 Marshall, Amariona         9 Canton McKin           13.90      14.00   1 
 12 Spencer, Allison          10 Northwest              14.29      14.57   1 
 13 Barrena-Aliaga, Rachel    11 Wooster                12.90      14.58   2 
 
Girls 200 Meter Dash
===================================================================================
    Name                    Year School                  Seed     Finals  H# Points
===================================================================================
  1 Miele, Ellie               9 Hudson                 26.70      26.05   2  10   
  2 Harsh, Amahrie            10 Hoover                 25.30      26.13   2   8   
  3 Kelley, Kayla             12 Mas. Jackson           26.71      27.39   2   6   
  4 Tucker, Ilana             11 Wooster                27.90      27.44   1   5   
  5 Wilson, Tayah              9 Mas. Jackson           27.35      27.74   2   4   
  6 Rosenberg, Samantha        9 Hudson                 28.70      27.91   1   3   
  7 Stark, Ashlyn             11 Northwest              27.43      27.91   2   2   
  8 Culler, Aniah             12 Canton McKin           27.68      28.28   2   1   
  9 Eagle, Ava                11 Wooster                28.70      29.34   1 
 10 Allan, Payton              9 Louisville             30.28      30.18   1 
 11 Balestra, Taylor          11 Louisville             32.46      31.48   1 
 
Girls 400 Meter Dash
===================================================================================
    Name                    Year School                  Seed     Finals  H# Points
===================================================================================
  1 Pacsi, Lauren             12 Hudson                 59.00      58.97   2  10   
  2 Harsh, Amahrie            10 Hoover                 58.30    1:00.17   2   8   
  3 Salomone, Leah            12 Mas. Jackson         1:02.20    1:03.30   2   6   
  4 Older, Sydney             10 Wooster              1:02.38    1:04.42   2   5   
  5 Wims, Allison             11 Hoover               1:05.40    1:04.92   1   4   
  6 Gmerek, Addy              12 Mas. Jackson         1:03.42    1:05.53   2   3   
  7 Jackson, Hailey            9 Louisville           1:05.30    1:05.76   1   2   
  8 Gallagher, Ellie          10 Hudson               1:03.00    1:06.22   2   1   
  9 Stark, Ashlyn             11 Northwest            1:02.91    1:06.98   2 
 10 Anderson, Lauren          12 Wooster              1:06.55    1:07.81   1 
 11 Barrett, Brooke           12 Northwest            1:07.94    1:08.10   1 
 12 Wilson, Gracie             9 Louisville           1:07.90    1:08.20   1 
 
Girls 800 Meter Run
================================================================================
    Name                    Year School                  Seed     Finals  Points
================================================================================
  1 Pukys, Diana              12 Louisville           2:25.00    2:20.49   10   
  2 Istnick, Sofia            12 Mas. Jackson         2:21.90    2:24.55    8   
  3 Dix, Marion               12 Wooster              2:29.00    2:28.79    6   
  4 Jones, Story              12 Hudson               2:22.00    2:30.38    5   
  5 Huzyak, Olivia            12 Mas. Jackson         2:28.90    2:31.96    4   
  6 Brown, Marisa             11 Louisville           2:38.00    2:38.82    3   
  7 Weaver, Emma              11 Northwest            2:36.34    2:40.45    2   
  8 Mera, Sophia              11 Wooster                         2:44.72    1   
  9 Fisher, Leah              10 Hoover               2:35.00    2:44.90  
 10 Horning, Ashlinne         10 Hoover               2:38.00    2:45.65  
 11 Horner, Jessica           12 Canton McKin         2:59.00    2:49.61  
 12 Walters, Deanna            9 Canton South         3:05.45    3:05.52  
 13 Ramirez-DePasquale, Mari  10 Canton McKin         3:25.00    3:14.70  
 
Girls 1600 Meter Run
================================================================================
    Name                    Year School                  Seed     Finals  Points
================================================================================
  1 Istnick, Sofia            12 Mas. Jackson         5:21.01   J5:12.91   10   
  2 Zagst, Kailey             11 Mas. Jackson         5:09.93   J5:19.31    8   
  3 Barker, Camryn            12 Louisville           5:35.00   J5:37.22    6   
  4 Doubet, Lucie             12 Northwest            5:41.92   J5:39.47    5   
  5 Dunlap, Mattie            10 Wooster                        J5:40.67    4   
  6 Jones, Story              12 Hudson               5:32.00   J5:41.83    3   
  7 Root, Ashley              12 Hudson               5:42.00   J5:45.59    2   
  8 Donaldson, Anna           10 Hoover               5:50.00   J5:55.46    1   
  9 Menegay, Bailey           12 Louisville           6:05.00    6:09.14  
 10 Holt-Frank, Rosalind      10 Wooster              6:15.00    6:10.62  
 11 Palombo, Anna             10 Hoover               6:15.00    6:15.26  
 12 Weaver, Emma              11 Northwest            6:16.46    6:23.29  
 13 Taylor, Faith             12 Canton South         6:18.00    6:26.42  
 14 Hall, Chloe               11 Canton McKin         7:12.00    6:50.76  
 15 Burns, Baylee             10 Canton McKin         7:33.00    7:08.42  
 
Girls 3200 Meter Run
================================================================================
    Name                    Year School                  Seed     Finals  Points
================================================================================
  1 Barker, Camryn            12 Louisville          12:00.00   11:49.80   10   
  2 Doubet, Lucie             12 Northwest           12:43.72   12:12.58    8   
  3 Clemens, Lena             11 Hudson              12:11.00   12:16.26    6   
  4 Liesen, Emma              11 Hudson              12:26.00   12:19.46    5   
  5 Miller, Audrey            11 Wooster             12:23.00   12:20.73    4   
  6 Reed, Sophia              10 Mas. Jackson        12:46.07   12:32.11    3   
  7 Williams, Grace           10 Mas. Jackson        12:45.91   12:45.45    2   
  8 Rohn, Andrea              10 Northwest           13:43.06   13:07.05    1   
  9 Cole, Chloe               11 Louisville          13:13.00   13:43.58  
 10 Hobe, Lauren              11 Hoover              13:35.00   13:43.94  
 11 Morgan, Beverly           12 Wooster             13:34.58   13:58.31  
 12 Grimm, Cassie             11 Hoover              15:00.00   15:26.95  
 13 Reid, Hailey               9 Canton McKin        14:33.00   15:54.04  
 -- Justice, Alexis           12 Canton South        12:00.66        DNF  
 
Girls 100 Meter Hurdles
===================================================================================
    Name                    Year School                  Seed     Finals  H# Points
===================================================================================
  1 Kosa, Klaudia             12 Hudson                 15.40      15.41   2  10   
  2 Blakely, Robbaniquea      10 Canton McKin           16.90      16.27   2   8   
  3 Eagon, Zoe                12 Hoover                 17.70      17.29   2   6   
  4 Schario, Ellie            12 Mas. Jackson           17.00      17.39   2   5   
  5 Forst, Madilyn             9 Hudson                 17.70      17.90   2   4   
  6 Fox, Olivia               12 Wooster                17.57      17.93   2   3   
  7 Matheson, Jazmine         11 Canton South           17.16      17.99   2   2   
  8 Smith, Jayla              12 Northwest              18.00      18.05   1   1   
  9 Zakham, Alyssa             9 Hoover                 17.90      18.11   2 
 10 Haddad, Gracie             9 Canton South           18.20      18.30   1 
 11 Baker, Clara              12 Mas. Jackson           18.25      18.56   1 
 12 Frazier, Maddie Rae       11 Wooster                19.40      19.19   1 
 13 Birone, Maddelyn           9 Louisville             20.10      21.18   1 
 14 Barrett, Alaylaha          9 Canton McKin           19.99      21.48   1 
 
Girls 300 Meter Hurdles
===================================================================================
    Name                    Year School                  Seed     Finals  H# Points
===================================================================================
  1 Fox, Olivia               12 Wooster                50.62      50.12   2  10   
  2 Forst, Madilyn             9 Hudson                 50.25      50.96   2   8   
  3 Nail, Ava                  9 Hoover                 52.90      51.45   2   6   
  4 Schario, Ellie            12 Mas. Jackson           52.15      52.93   2   5   
  5 Manofsky, Abra             9 Mas. Jackson           54.12      53.05   1   4   
  6 Baddeley, Korryn           9 Canton South           53.49      53.32   2   3   
  7 Matheson, Jazmine         11 Canton South           53.65      53.50   2   2   
  8 Gotschall, Taryn           9 Louisville             54.00      54.28   1   1   
  9 Smith, Jayla              12 Northwest              53.09      55.19   2 
 10 Daily-Brown, Celebrity    11 Canton McKin           58.67      56.39   1 
 11 Blakely, Robbaniquea      10 Canton McKin           57.10      57.16   1 
 12 Everhart, Anna            10 Northwest              55.53      57.94   1 
 13 Scheetz, Landyn           10 Louisville                        58.54   1 
 14 Eagon, Zoe                12 Hoover                 54.40      58.84   1 
 
Girls 4x100 Meter Relay
================================================================================
    School                                               Seed     Finals  Points
================================================================================
  1 Mas. Jackson                                        51.32      51.95   10   
     1) Lusk, Kaylee 9                  2) Adams, Emily 10                
     3) Migge, Reese 10                 4) Kelley, Kayla 12               
  2 Hudson                                              51.90      52.09    8   
     1) Iuston, Brooke 9                2) Miele, Ellie 9                 
     3) Rosenberg, Samantha 9           4) Hegedish, Carrie 9             
  3 Canton McKinley                                     53.70      52.53    6   
     1) Sterling, Alexys 9              2) Marshall, Amariona 9           
     3) Culler, Aniah 12                4) Cameron, Leah 11               
  4 Wooster                                             52.18      53.06    5   
     1) Eagle, Ava 11                   2) Barrena-Aliaga, Rachel 11      
     3) Tucker, Ilana 11                4) Levy, Nora 11                  
  5 Northwest                                           53.42      54.86    4   
     1) Spencer, Allison 10             2) Lazarus, Olivia 11             
     3) Barrett, Brooke 12              4) Stark, Ashlyn 11               
  6 Hoover                                              53.30      54.98    3   
     1) Clay, Mackenzie 11              2) McHenry, Maddie 12             
     3) Miller, Addison 9               4) Sponseller, Audrie 11          
  7 Louisville                                          55.10      55.03    2   
     1) Allan, Payton 9                 2) Gotschall, Taryn 9             
     3) Jackson, Hailey 9               4) Rich-DeGasperis, Gabrielle 10  
  8 Canton South                                        56.32      56.25    1   
     1) Hastings-Peterson, Summer 9     2) Lewis, Layla 9                 
     3) Bryan, Abbie 9                  4) Keating, Nadia 12              
 
Girls 4x200 Meter Relay
================================================================================
    School                                               Seed     Finals  Points
================================================================================
  1 Mas. Jackson                                      1:47.26    1:48.55   10   
     1) Salomone, Leah 12               2) Lemus, Lindsey 11              
     3) Lusk, Kaylee 9                  4) Kelley, Kayla 12               
  2 Wooster                                           1:51.82    1:52.87    8   
     1) Older, Sydney 10                2) Fox, Olivia 12                 
     3) Levy, Nora 11                   4) Tucker, Ilana 11               
  3 Hudson                                            1:50.75    1:53.05    6   
     1) Iuston, Brooke 9                2) Miele, Ellie 9                 
     3) Rosenberg, Samantha 9           4) Hegedish, Carrie 9             
  4 Canton McKinley                                   1:51.00    1:54.81    5   
     1) Sterling, Alexys 9              2) Cameron, Leah 11               
     3) Culler, Aniah 12                4) Dabney, Deleaun 11             
  5 Hoover                                            1:53.00    1:56.66    4   
     1) Clay, Mackenzie 11              2) Miller, Addison 9              
     3) McHenry, Maddie 12              4) Wims, Lexi 9                   
  6 Northwest                                         1:59.03    2:00.09    3   
     1) Everhart, Anna 10               2) Barrett, Brooke 12             
     3) Smith, Jayla 12                 4) Spencer, Allison 10            
  7 Canton South                                      1:58.20    2:00.41    2   
     1) Keating, Nadia 12               2) Lewis, Layla 9                 
     3) Bryan, Abbie 9                  4) Hole, Alexis 10                
  8 Louisville                                        1:57.40    2:02.51    1   
     1) Balestra, Taylor 11             2) Wilson, Gracie 9               
     3) Gotschall, Taryn 9              4) Scheetz, Landyn 10             
 
Girls 4x400 Meter Relay
================================================================================
    School                                               Seed     Finals  Points
================================================================================
  1 Wooster                                           4:21.08 0:44:22.52    6   
     1) Older, Sydney 10                2) Dix, Marion 12                 
     3) Anderson, Lauren 12             4) Dunlap, Mattie 10              
  2 Mas. Jackson                                      4:16.11 0:44:24.09   10   
     1) Salomone, Leah 12               2) Zagst, Kailey 11               
     3) Gmerek, Addy 12                 4) Lemus, Lindsey 11              
  3 Hudson                                            4:16.00 0:44:30.28    8   
     1) Jacops, Ruby 10                 2) Gallagher, Ellie 10            
     3) Dunphy, Kyla 9                  4) Pacsi, Lauren 12               
  4 Louisville                                        4:27.87 0:44:36.89    5   
     1) Gotschall, Taryn 9              2) Brown, Marisa 11               
     3) Jackson, Hailey 9               4) Pukys, Diana 12                
  5 Hoover                                            4:28.00 0:44:46.48    4   
     1) Wims, Lexi 9                    2) Wims, Allison 11               
     3) Miller, Addison 9               4) Fisher, Leah 10                
  6 Northwest                                         4:47.00 0:44:49.69    3   
     1) Smith, Jayla 12                 2) Barrett, Brooke 12             
     3) Weaver, Emma 11                 4) Lazarus, Olivia 11             
  7 Canton South                                      4:45.00 0:44:51.34    2   
     1) Bryan, Abbie 9                  2) Matheson, Jazmine 11           
     3) Keating, Nadia 12               4) Hole, Alexis 10                
  8 Canton McKinley                                   4:27.00 0:45:11.91    1   
     1) Johnson, SaRae 9                2) Barrett, Alaylaha 9            
     3) Daily-Brown, Celebrity 11       4) Horner, Jessica 12             
 
Girls 4x800 Meter Relay
================================================================================
    School                                               Seed     Finals  Points
================================================================================
  1 Hudson                                            9:43.00    9:59.43   10   
     1) Pacsi, Lauren 12                2) Jacops, Ruby 10                
     3) Gallagher, Ellie 10             4) Jones, Story 12                
  2 Wooster                                          10:09.10   10:18.25    8   
     1) Miller, Audrey 11               2) Dix, Marion 12                 
     3) Hohman, Izzie 11                4) Dunlap, Mattie 10              
  3 Mas. Jackson                                     10:45.20   10:23.90    6   
     1) DeRosa, Emily 11                2) Hudas, Gianna 10               
     3) Williams, Grace 10              4) Huzyak, Olivia 12              
  4 Louisville                                       11:12.00   10:28.07    5   
     1) Barker, Camryn 12               2) Pukys, Diana 12                
     3) Brown, Marisa 11                4) Menegay, Bailey 12             
  5 Hoover                                           10:48.00   11:07.99    4   
     1) Donaldson, Anna 10              2) Fisher, Leah 10                
     3) Horning, Ashlinne 10            4) Wims, Allison 11               
  6 Northwest                                        11:25.13   11:42.41    3   
     1) Rohn, Andrea 10                 2) Fightmaster, Taylor 12         
     3) Smith, Madison 11               4) Zantow, Abigail 9              
  7 Canton South                                     11:48.00   11:54.09    2   
     1) Hastings-Peterson, Summer 9     2) Lewis, Layla 9                 
     3) Taylor, Faith 12                4) Walters, Deanna 9              
  8 Canton McKinley                                  12:28.00   12:41.86    1   
     1) Hall, Chloe 11                  2) Horner, Jessica 12             
     3) Burns, Baylee 10                4) Reid, Hailey 9                 
 
Girls High Jump
================================================================================
    Name                    Year School                  Seed     Finals  Points
================================================================================
  1 Patibandla, Leena         11 Mas. Jackson         5-04.00   J5-02.00   10   
  2 Timko, Faith              11 Wooster              5-01.25   J5-00.00    5   
  2 Baker, Clara              12 Mas. Jackson         5-00.00   J5-00.00    7   
  2 Dabney, Deleaun           11 Canton McKin         5-00.00   J5-00.00    7   
  5 Cameron, Leah             11 Canton McKin         4-10.00   J4-10.00    4   
  6 Lazarus, Olivia           11 Northwest            4-10.00   J4-06.00    2   
  6 Fagart, Natalie           11 Wooster              4-06.00   J4-06.00    1   
  6 Horning, Ashlinne         10 Hoover               4-08.00   J4-06.00    3   
  9 Harvey, Niveah            12 Hudson               4-08.00    4-02.00  
  9 Hole, Alexis              10 Canton South         4-04.00    4-02.00  
 -- Bonnette, Kaitlyn          9 Hudson               4-00.00         NH  
 -- Fisher, Leah              10 Hoover               4-06.00         NH  
 
Girls Pole Vault
================================================================================
    Name                    Year School                  Seed     Finals  Points
================================================================================
  1 Bernard, Izzy             11 Mas. Jackson        11-00.00  J10-06.00   10   
  2 Schans, Chloe              9 Hoover               9-07.00   J9-06.00    8   
  3 Kern, Addison             11 Hoover               9-00.00   J9-00.00    6   
  4 Hiestand, Sarah           12 St. Thomas A         9-06.00   J8-00.00    5   
  5 Hofner, Allison           10 Mas. Jackson         8-00.00   J7-04.00    4   
  6 Campbell, Paonia          11 Wooster              7-06.00   J7-00.00    3   
  6 French, Mara               9 Wooster              7-06.00   J7-00.00    2   
  8 Kippley, Annika           11 Hudson               7-00.00   J6-06.00    1   
 -- Coss, Pheobe              10 Canton McKin         6-06.00         NH  
 
Girls Long Jump
================================================================================
    Name                    Year School                  Seed     Finals  Points
================================================================================
  1 Zakham, Alyssa             9 Hoover              14-09.00   15-04.50   10   
  2 Williams, Riley           12 Mas. Jackson        15-03.00   15-03.50    8   
  3 Korach, Olivia            12 Hoover              15-02.00   14-11.75    6   
  4 Rischitelli, Maggie       12 Hudson              15-02.00   14-11.50    5   
  5 Harvey, Niveah            12 Hudson              14-00.00   14-11.25    4   
  6 Eagle, Ava                11 Wooster             15-00.00   14-09.50    3   
  7 Culler, Aniah             12 Canton McKin        15-02.00   14-08.50    2   
  8 Levy, Nora                11 Wooster             15-10.00   14-06.00    1   
  9 Hole, Alexis              10 Canton South        15-02.00   14-01.50  
 10 Hastings-Peterson, Summe   9 Canton South        14-00.00   13-05.25  
 -- Patibandla, Leena         11 Mas. Jackson                       FOUL  
 -- Simpson, Molly            11 Louisville          14-04.00       FOUL  
 
Girls Shot Put
================================================================================
    Name                    Year School                  Seed     Finals  Points
================================================================================
  1 Merrick, Grace            11 Hudson              39-00.00   40-06.00   10   
  2 Hofner, Maggie            12 Mas. Jackson        34-10.00   33-11.00    8   
  3 Kostohryz, Grace          10 Wooster             34-08.00   33-03.00    6   
  4 Jones, Abbigail           11 Wooster             34-01.25   33-01.00    5   
  5 Hirschman, Harper          9 Mas. Jackson        32-02.00   31-11.00    4   
  6 Sypolt, Sloane            10 Louisville          32-08.00   30-05.00    3   
  7 Morrison-Ericksen, Trini  11 Hoover              33-00.00   30-04.00    2   
  8 Rueschman, Raine          12 Canton South        33-07.50   28-10.50    1   
  9 Szerokman, Makayla        11 Canton South        28-06.00   27-07.00  
 10 Lyons, Sarah              10 Hudson              29-00.00   27-03.00  
 11 Anderson, Paige           11 Louisville          27-08.00   24-09.00  
 12 Chittaro, Sofia           12 Northwest           23-06.00   22-11.00  
 13 Loudianna, Audrey          9 Northwest           22-11.00   20-02.00  
 
Girls Discus Throw
================================================================================
    Name                    Year School                  Seed     Finals  Points
================================================================================
  1 Merrick, Grace            11 Hudson                116-00     123-00   10   
  2 Patibandla, Leena         11 Mas. Jackson          127-00     117-11    8   
  3 Hofner, Maggie            12 Mas. Jackson          124-00     110-10    6   
  4 Huffman, Brenna           11 Wooster               112-02     103-11    5   
  5 Sypolt, Sloane            10 Louisville             89-04      96-09    4   
  6 Jones, Secora             10 Canton McKin          102-00      93-02    3   
  7 Rueschman, Raine          12 Canton South          100-10      90-07    2   
  8 Kostohryz, Grace          10 Wooster                93-08      89-05    1   
  9 Lyons, Sarah              10 Hudson                 80-00      80-07  
 10 Buydos, Luka              11 Louisville          65-07.50      76-10  
 11 Szerokman, Makayla        11 Canton South           80-07      71-09  
 12 Okolish, Anika            11 Northwest              73-09      67-05  
 13 Fenton, Julia             11 Hoover                 75-00      66-06  
 14 Loudianna, Audrey          9 Northwest              65-02      65-01