Leopards Freshman Shutout GlenOak 14-0 in Opener – Freshman Football

Louisville 14, GlenOak 0
<<< Previous 2019 Vs. Massillon | Freshman Football Schedule | Next At St. Vincent-St. Mary >>>
The Louisville Leopards Freshman Football Team shutout the visiting GlenOak Golden Eagles 14-0 Thursday Evening in their season opener at Louisville Leopards Stadium.
Most of the first half was a field position battle as the two defenses dominated early on. The Leopards finally broke through when Quarterback Keaton Rode hit Andrew Corona on a 3 yard touchdown strike with 15 seconds to go before halftime. Carter Duskey's extra point was true and Louisville took a 7-0 lead into the break.
The second half was much of the same as the two defenses made plenty of plays to keep the score at 7-0. Late in the game, GlenOak ran a fake punt to desperately try to convert a 4th-and-4 in their own territory. The duo of Brandon Stanich and Duskey converged to stop the ball carrier short at the Golden Eagle 18.
The Leopards took advantage of the short field and a few plays later Corona ran in a touchdown from 7 yards out to put LHS ahead 14-0.The Louisville defense forced one last three-and-out to end the contest.
Altogether the Leopards defense recorded at least 9 tackles for a loss led by Stanich who stormed in for 3 tackles for negative yardage. Will Ramsey and Braylon Taylor had 2 tackles for a loss each. Duskey also broke up passes in the secondary on multiple GOHS third down attempts.
Both teams turned the ball over once early on in the game in the first quarter. Louisville fumbled away their opening possession at the LHS 44. Later in the quarter, Corona intercepted a lame duck throw for the Leopards at the Louisville 47.
The Leopards have now outscored the Golden Eagles 51-0 in their last two meetings at the Freshman level both at Louisville Leopards Stadium. Louisville last beat GlenOak 37-0 back in 2013.
<<< Previous 2013 | GlenOak All-Time Series
UP NEXT: The Leopards will next hit the road to take on the St. Vincent-St. Mary Fighting Irish on Thursday, September 10 at 5:30 PM.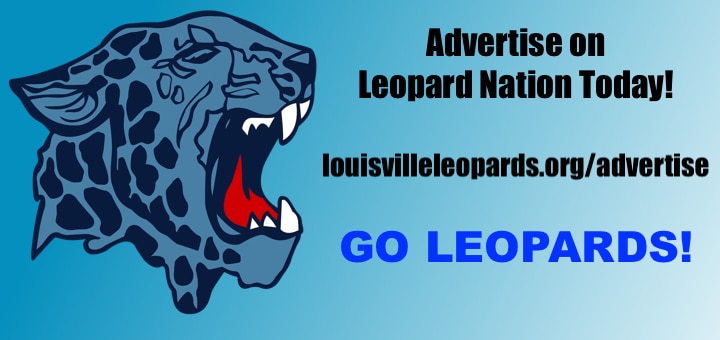 Game Statistics
Scoring Summary
LEOPARDS 14, GOLDEN EAGLES 0
Team 1-2-3-4–TOTAL
GlenOak 0-0-0-0–00
Louisville 0-7-0-7–14
1st Quarter
NO SCORING
2nd Quarter
LOUISVILLE – Andrew Corona 3 Yard Pass from Keaton Rode (Carter Duskey Kick) | LHS 7, GOHS 0, 0:15
3rd Quarter
NO SCORING
4th Quarter
LOUISVILLE – Andrew Corona 7 Yard Run (Carter Duskey Kick) | LHS 14, GOHS 0
Records: Louisville 1-0