Leopards Fall to Quakers on Senior Night – Track and Field
Boys: New Philadelphia 74, Louisville 56
Shot put: Rothrock (NP) 42-10. Discus: Rothrock (NP) 115-9. High jump: Martin (NP) 5-10. Long jump: McInturf (NP) 19-1.5. 3,200-meter relay: Louisville (Pukys, Ulrich, Adams, Ganser) 9:11. 110 hurdles: Martin (NP) 16.54. 100: Rennicker (NP) 11.38. 800 relay: Louisville (Cruse, Smith, Anderson, Mickley) 1:33.10. 1,600: Brady (NP) 4:40.37. 400 relay: Louisville (Cruse, Smith, Anderson, Mickley) 44.64. 400: Bean (NP) 52.63. 300 hurdles: Martin (NP) 44.41. 800: Ganser (L) 2:07.47. 200: New Philadelphia 23.69. 3,200: Ulrich (L) 11:01.20. 1,600 relay: New Phil. 3:38.62.
---
---
Girls: New Philadelphia 65, Louisville 62
The girls' track team braved some less than ideal conditions on senior night at the Louisville High School track. Although they girls competed hard they came up three points shy of earning the victory falling by a score of 62-65.
The ladies opened up the scoring with a victory from the 4 x 800 relay team of Marisa Brown, Landyn Scheetz, and senior Camryn Barker and Diana Pukys. Taryn Gotschall earned a point in the hurdles posting a season best time of 19.68. Gabby Rich-DeGasperis raced herself to a victory in the 100 with a time of 13.85 while teammate Payton Allan ran for third in 14.45. Camryn Barker notched her second win of the day in the 1600 with a time of 5:40 with fellow senior Diana running 5:51.24, which was good for third. In the night's closest race, the 400 Hailey Jackson battled down the home stretch and earned a second place finish with a time of 66.76 and fellow freshman Gracie Wilson place thirs with a time of 68.99. In the 300 hurdles teammates Landyn Scheetz and Molly Simpson placed second and third respectively with times of 59.29 and 63.03. Pukys earned herself a second win in the 800 meters running a time of 2:33.89 with Marisa Brown earning the bronze with a time of 2:38.50. Freshman Peyton Allan returned from a slight injury and ran for third place in the 200, her time was 30.46. The team's final scoring on the track came from the trio of Barker, Chloe Cole, and Bailey Menegay. The three ladies finished 1-2-3, to set up the 4 x 400 to decide the outcome of the meet. Barker won with a time of 12:39.66, followed by Cole in 13:31.43 and senior Menegay placed third in 13:59.15
In the field events Molly Simpson cleared 3'10" in the high jump to gain second place in the event. Diana Pukys scored in her fourth event in the Long jump with a leap of 14′ 8″. The lady throwers scored 11 points with Sloane Sypolt leading the way with a second place finish in the shot and a winning toss in the discus of 89'4″. Luka Buydos tossed the disc 74′ 1″ to earn an additional 3 points of the team.
The team will return to action on Friday at Perry High School when they will compete in the Freshman/sophomore Invitational.
Cover Photo By The Louisville Herald
---
Donate to Leopard Nation
---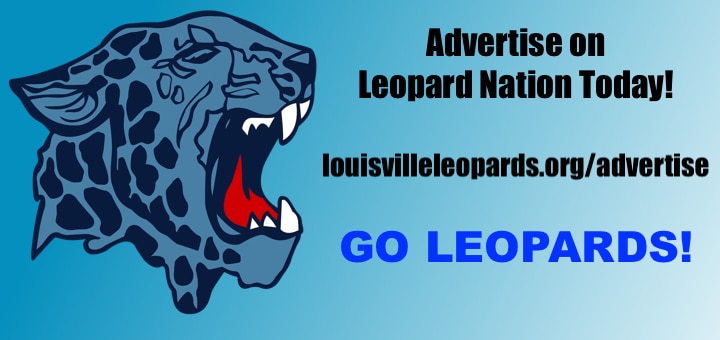 Don't forget to Subscribe to Our Posts for Free