Louisville Storms Past Salem to Win Sectional Title – Boys Basketball
#9 Louisville 75, #7 Salem 61
<<< Previous Vs. #18 NDCL | Boys Basketball Schedule | Next At #2 Poland Seminary >>>
The #9 seed Louisville Leopards Boys Varsity Basketball Team upset the host #7 seed Salem Quakers in dominate fashion 75-61 Friday Night in their DII Northeast 2 Sectional Final at John A. Cabas Gymnasium. Louisville improves to 14-9 with the win and advances to play at #2 seed Poland on Thursday, March 4 at 7:00 PM in the DII Northeast 2 District Semifinals.
---
Aljancic Scores Game-High 20 to Lead Leopards
Sophomore Will Aljancic scored 11 of his game-high 20 points in the fourth quarter to lead the Leopards. Freshman Hayden Nigro set the tone early on in scoring 8 of his 17 points in the opening quarter. Senior Broc Pickens also finished with a double-double in scoring 13 points to go along with a team leading 10 rebounds. Senior Cory Noble also grabbed 9 boards and tacked on 12 points to round out the double digit scorers for Louisville.
---
Louisville Takes Command With 9-0 Run
Senior Hunter Griffith scored the first two points of the game for the Quakers and that would be their only lead of the contest. Putting on the press, the Leopards responded with a 9-0 run and never looked back.
Salem got within 11-7 after Cade Rohm hit from beyond the arch. But Louisville dominated the offensive boards and retaliated with back-to-back three-pointers from Nigro to retake a double digit advantage. LHS maintained that advantage in taking a 19-9 lead through the end of one.
---
Seven Different Leopards Score in 2nd Quarter
The two teams exchanged points back-and-forth early on in the second quarter, but by the end of the period the Leopards had added to their advantage. Louisville strung together a 7-0 run late in the quarter to pull ahead 35-19.
Everyone was stepping up for LHS as seven different Leopards scored in the second period alone and eight separate Louisville players scored in the opening half. LHS rode a 38-23 lead into the intermission as a result.
---
Salem Chips Away After Louisville Rips Open 19-Point Lead
The Leopards continued with the same intensity to begin the second half. Junior Tyler Boldon scored on a fast break and then scored on his own put-back a few possessions later. Pickens delivered a big block on the defensive end and then Nigro hit a pair of free throws back on offense to extend the Louisville lead to its largest of the game at 44-25.
After falling behind by their largest deficit, the Quakers outscored the Leopards 18-10 during the remaining portion of the quarter. Jon Null and Drew Weir propelled the Salem rally with 8 points each in the third. However, SHS still trailed 54-43 heading into the fourth.
---
Leopards Put the Game Away with 10-0 Run
The Quakers struck first in the final stanza to get within 54-46. Ross Davidson scored while being fouled and converted the extra free throw attempt from the line. Nigro answered with a little floater in the lane to put Louisville back up by double figures, but Salem again struck back with a basket by Null on the other end.
The Leopards put the game away after that with a 10-0 run. Aljancic and Pickens both scored from the field during the onslaught as Louisville upped their advantaged to 66-48.
It was mostly a free throw contest after that. The Leopards converted 9 of 13 (69%) attempts from the charity stride in the fourth quarter to seal the contest. Overall Louisville maintained that same consistency throughout the contest in making 22 of 32 (69%) free throw tries for the game. In comparison, the Quakers finished 8 of 13 (62%) from the line for the night.
---
Null Leads Quakers with Team-High 19
Salem (16-8) was led by Null who scored 13 of his team-high 19 points in the second half. Weir also scored 13 of his 15 points in the second half and Griffith finished in double figures with 13 for SHS.
---
Leopards Vs. Quakers Boys Basketball Series
The Leopards have now won 11 straight over the Quakers since 2013, which includes the last 6 played at John A. Cabas Gymnasium. Louisville now leads the all-time series 14-5 overall.
This was the first meeting between the two schools in tournament play since their first meeting in the 1946 Youngstown District Tournament. In what amounted to a sectional final, the eventual district champion Salem Quakers defeated the Louisville Blue Raiders 38-32.
<<< Previous 2018 | Salem All-Time Series
---
1st Road Tournament Win in Team History
The Leopards win at Salem Friday for all intends and purposes is their first road postseason victory in team history. Prior to 2014, all tournament games (including sectional games) were played at a neutral location. Louisville was previously 0-2 in road sectional contests falling at Cuyahoga Falls 49-46 in 2014 and at Boardman 62-54 in 2017.
It is important to note that the Leopards defeated the Canton Lincoln Lions 54-51 in the opening round of the Canton Class AA tournament in 1964. While technically a neutral location, this is potentially the last time LHS won a postseason tournament game on the opposition's home court.
Louisville is now 55-87 all-time in the postseason dating back to the 1932 Akron Class A tournament. The Leopards now holds an even 27-27 record in Division II since they moved from the class to division format in 1988 (this excludes their time in Division I from 2012-2017). LHS has also now won 4 sectional championships in the past 6 seasons.
<<< Previous 2021 Vs. NDCL | Boys Basketball Tournament History | Next 2021 At Poland >>>
---
YSN Coach's Corner Interview with Tom Siegfried
---
Siegfried Closes in on Most LHS Tournament Wins
Louisville is now 9-13 in tournament play under Head Coach Tom Siegfried, which includes a 7-7 mark in Division II. With the pair of wins this postseason, Siegfried has passed Bill Eddins (7-8 from 1993-2001) for second most tournament wins in team history. Only Joe Harold (10-4 from 1989-1993) has accumulated more as a Leopard head coach. Siegfried will have a chance to tie his high mark Thursday at Poland.
This is the first time Louisville has won multiple tournament games in back-to-back seasons since Harold was at the helm. That included the 1992 District Runner-Up team as well as the Leopards only District Championship team in program history in 1993. This year's Louisville squad appears to be following a similar pattern as they fell in the District Title game a year ago and are peaking at the right time yet again this year.
UP NEXT: The #9 seed Leopards will next travel to face the #2 seed Poland Seminary Bulldogs in the DII Northeast 2 District Semifinals on Thursday, March 4 at 7:00 PM from Poland Seminary High School.
---
Donate to Leopard Nation
---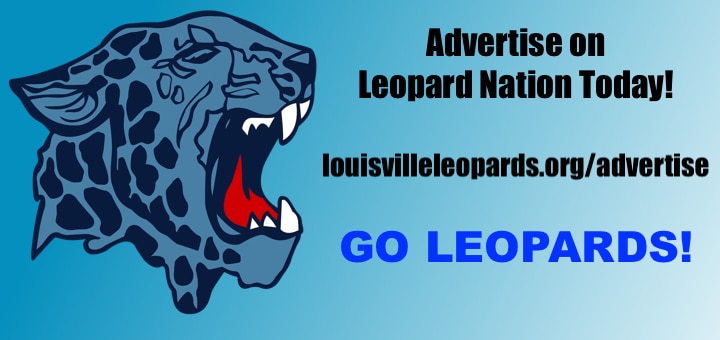 Don't forget to Subscribe to Our Posts for Free
VARSITY STATISTICS
LEOPARDS 75, QUAKERS 61

Team 1-2-3-4–TOTAL
Louisville 19-19-16-19—75
Salem 9-14-20-18—61
LEOPARDS: Aljancic 6 7-10 20, Nigro 6 3-5 17, Pickens 4 5-8 13, Noble 4 4-4 12, Boldon 3 1-3 7, Haren 1 0-0 2, Hoffman 0 2-2 2, Seaman 1 0-0 2. TOTAL 25 22-32 75.
3-Pointers (3): Nigro 2, Aljancic
Team FT: 22-32 69%
QUAKERS: Null 8 2-2 19, Weir 5 3-6 15, Griffith 6 0-0 13, Young 2 2-3 6, Davidson 2 1-2 5, Rohm 1 0-0 3. TOTAL 24 8-13 61.
3-Pointers (5): Weir 2, Griffith, Null, Rohm
Team FT: 8-13 62%
Fouls: 22-16 Salem
Turnovers: 16-12 Louisville
Records: Louisville 14-9