Louisville Freshman Fall at Massillon 39-12 – Freshman Football
Massillon 39, Louisville 12
<<< Previous Vs. Lake | Freshman Football Schedule
The Louisville Leopards Freshman Football Team fell to the host Massillon Tigers 39-12 Thursday Evening at Paul Brown Tiger Stadium. With the loss, Louisville falls to 5-2 on the season.
Quarterback Keaton Rode threw a pair of touchdown passes for the Leopards only scores. Trailing 19-0, Rode found Braiden Hershey for a 65 yard touchdown pass on the drive's first play. Later in the third quarter, Rode hit Hayden Nigro for an 11 yard touchdown pass to cut the deficit to 32-12.
Massillon dominated the game from the start before cruising to 6-2 on the season. The Leopards freshman are now 2-3 against the Tigers since 2016 which includes a 1-2 record at Paul Brown Tiger Stadium during that stint.
<<< Previous 2019 | Massillon All-Time Series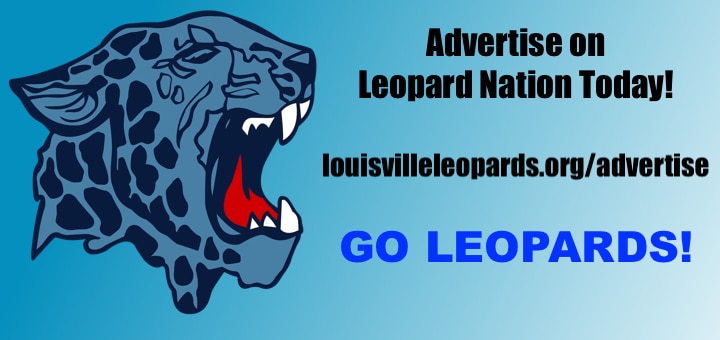 Game Statistics
Scoring Summary
TIGERS 39, LEOPARDS 12
Team 1-2-3-4–TOTAL
Louisville 0-6-6-0–12
Massillon 12-20-7-0–39
1st Quarter
MASSILLON – Zach Leibler 85 Yard Punt Return (Kick Failed) | LHS 0, WHS 6, 7:25
MASSILLON – ?? Run (Kick Failed) | LHS 0, WHS 12, 4:40
2nd Quarter
MASSILLON – ?? 3 Yard Run (?? Kick) | LHS 0, WHS 19, 8:12
LOUISVILLE – Braiden Hershey 65 Yard Pass from Keaton Rode (??) | LHS 6, WHS 19
MASSILLON – Mitchell Frazier Pass from ?? (Kick Failed) | LHS 6, WHS 25, 2:24
MASSILLON – Zach Leibler ?? (?? Kick) | LHS 6, WHS 32
3rd Quarter
LOUISVILLE – Hayden Nigro 11 Yard Pass from Keaton Rode (Pass Failed) | LHS 12, WHS 32, 5:02
MASSILLON – ?? (?? Kick) | LHS 12, WHS 39
4th Quarter
NO SCORING
Records: Massillon 6-2, Louisville 5-2